Two conspiracy theorists have once again… gone way too far.
Robert Ussery (SideThorn the Clown) and YouTube Partner Jodi Mann (aka Jodie Marie) confronted more crowds of unsuspecting people in public with their propaganda… this time inside a place of worship.
The idea that the mass shooting at Sutherland Springs (November 5th, 2017) did NOT occurr? Church-goers frowned at the thought, prompting one God-worshipping citizen to call local authorities on Robert Ussery and Jodi Mann. Side Thorn Ussery, along with conspiracy theorist co-conspirator Mann, were arrested at First Baptist Church, the site of the November 5th massacre. The arrest took place exactly four months after the tragedy – March 5th, 2018. Authorities finally stepped in after repeated harassment to the community.
The Wilson County Sheriff's Office declined to provide charging information on Robert Ussery, 54, who founded conspiracy website Side Thorn, and his partner Jodi Mann, 56,  referred to as "Conspiracy Granny" online.
"Side Thorn Ussery yelled non-stop about how he and the Conspiracy Granny were going to string up a Pastor and hang him from a tree. Side Thorn then went on to threaten urination while the man swung from his rope."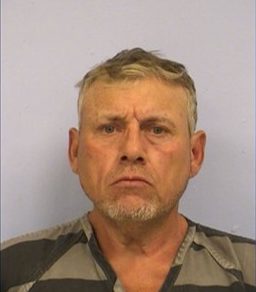 Pomeroy said he was in his car by the church when Ussery and Mann approached the building. Pomeroy intervened when Mann began to write in large, loopy writing on a poster left for well-wishers to sign. Mann wrote, "The truth shall set you free."
Side Thorn and Conspiracy Granny believe the shooting was staged by secret United States Government groups. Pomeroy knows better. He should. Pomeroy's 14-year-old daughter was killed that day.
"He said, 'Your daughter never even existed. Show me her birth certificate. Show me anything to say she was here,'" Pomeroy said. "I just told him there was enough evidence already visible, so if he chooses not to see that, how would I know he would believe anything else?"
Pomeroy said Ussery didn't recognize him at first, but once he did, he started yelling at him. Meanwhile, Rod Green, a local resident and member of the congregation, called the police.
"He kept trying to bait us to do something dumb," Pomeroy said.
The nationwide Victim Information Notification Everyday online database showed both Ussery and Mann were in custody Monday night. Wilson County Sherriff Joe Tackitt Jr. did not respond to repeated calls for comment. A sergeant at the Wilson County Jail said Tackitt told him the investigation was ongoing.
The whole time, Ussery had a camera on his chest, Pomeroy said, and Mann was also filming the interaction by his side.
Side Thorn's conspiracy website is full of homemade videos, taken from TV news reports by Ussery's own camera. Supposedly, the video proves Sutherland Springs massacre did not occur. It also claims that the tragedies at Marjory Stoneman Douglas High School in Parkland, Florida; Sandy Hook Elementary school in Newtown, Connecticut; the Boston Marathon and the country music concert in Las Vegas are hoaxes devised by the U.S. Department of Homeland Security.
The website's homepage features a photo of a United States map with the words: "Truth is treason in the empire of lies." It presents videos purporting to show Sutherland Springs residents practicing the shooting as "nothing but a staged drill." There is audio of a victim's family calling him and angrily demanding he leave her family alone.
The most recent post is a video of David Hogg, a student activist at the Florida high school, with the words "EXPOSED" superimposed on his forehead. The description: "100% proof of another staged drill."
"Before talking to him today, I thought he was trying to play some angle," Pomeroy said. "But I think he's truly demented. I think he truly believes his own rhetoric. I can't explain it."
Two years ago, Robert Ussery was arrested during a White Lives Matter rally in Austin, Texas. Robert Ussery has a lengthy arrest history from the 1980s and 1990s for burglary, driving while intoxicated, assault and evading arrest. Online sources describe him as an Austin or Lockhart resident.
On a Sutherland Springs community Facebook page, members have been warning each other about Ussery and Mann. Some have brainstormed what they could do to get the pair to stop.
When Pomeory clambered out of his car at midday Monday, he recognized Ussery immediately. Pomeroy remained cool while Ussery screamed at him. Michael Ussery refused to leave and Pomeroy hoped the pair would stay until deputies arrived.
"We've already had to deal with one person that lived in an alternate reality." Pomeroy said, referring to Devin Kelley of New Braunfels. The 26-year-old gunman killed himself after murdering church goers.
"If it takes something happening before you get rid of these guys, then I'm just glad that this 'something happening' happened and nobody got hurt." Pomeroy said. "Now let's just pray it's done."