Philip Daniel Craigie Attempts to School HONR and Fails!
YouTuber, Doomer & Gloomer turns to threatening behavior… AGAIN.
More DEATH THREATS fly out of the Professor's smart mouth and this is not the first time.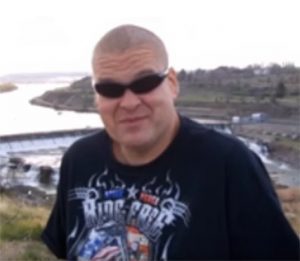 In Professor Doom1's latest video (October 15th, 2016), more death threats fly out of the professor's smart mouth. This isn't the first time. Phillip Daniel Craigie (Professor Doom1 on YouTube) has a history of frustration followed by aggression, both inside and outside the prison system. Years ago, Professor Doom1 was so frustrated with the hole he was in, Craigie challenged all the guards and attempted to sue the prison system for cruel and unusual punishment – Professor Doom1 desperately needed toilet paper.
"Documents…?"
We all know the story. No toilet paper for a man facing a life sentence equals a lawsuit for over $150K. The lawsuit was denied. Professor Doom1 will argue his points of "bio-hazards" from documents he, himself, discovered on the bed of his new transfer cell.
REMEMBER: Professor Doom1 made much of his YouTube fame as a document expert! Maybe the AIDS and genital warts diagnosis was a hoax? After all, there were hundreds and hundreds of inconsistencies in the official Sandy Hook documents… right? Every page, right? No, not right. Wrong.
Professor Doom1 will kick, scream and threaten until he is satified or gets it to go his way. In prison, Doom had to listen to authority. On the outside, Professor Doom1 is his own man who plays by his own rules.
These days the YouTuber has his sites set on Sandy Hook Parent Lenny Pozner!
pro

F

essor dumb
Doom gets a Few big Fat Fs. Fool. Looks like he will be repeating grade school all over again.
False Flags!?!?!? No, Professor. These are RED FLAGS!!!

Newtown Ct: Lenny Pozer & Honr Network reveal their true selves!
To anyone with common sense, it's disgusting. Firstly, there is the YouTube cover photo. Professor Doom1 has carefully taken the time to alter the logo from HONR Network by adding four bullet holes. But why bullet holes that have pierced through the center of HONR's heart? Well… why not? Why not "bullet holes" from a gun-obsessed meth addict who claims to love his country, standing for truth, freedom and the American way? It's a no-brainer – for the Professor, that is. Professor Doom1 has no brains left inside that racist-skinned head.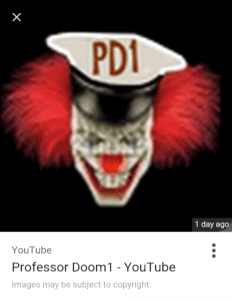 Secondly, the video is aimed at Lenny Pozner and those associated with The HONR Network. Pozner lost his six year old son to gun violence in 2012. As for the "secret" volunteers helping Pozner and the HONR Network, Doom does not know their stories, however, it was agreed upon unanimously, the bullet holes were 100% a threat, considering Professor Doom1's violent past. This second point should really drive home the first. Bullet holes… on a video cover photo… intended for Pozner… the first thing Pozner will see… who is still grieving from losing his only son. Lenny Pozner doesn't deserve it, clown.
Third (and this one is a doosie!), there is the death threat which came straight from the Hoaxers mouth… quote:
"When the war gets brought to your front door…
don't start cryin', don't start whining. Just roll with it."– Philip Daniel Craigie AKA Professor Doom1

Whoa! Really now, Professor Doom1? What exactly does that mean? FRONT DOOR? Does this ex-con plan on paying Pozner a visit in person? Of course he wants to. Professor Doom1 needs the tragic event of SHE to come full circle for him, personally. Just take a listen to how giddy Doom gets when he mentions talking to Pozner five times on the telephone. Can you picture the slash marks on his dirty living room wall?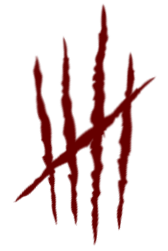 Five times! Five times on the phone… WITH LENNY! Did the 50,000+ subscribers on Professor Doom1's YouTube Channel miss that one?
For those who do not know, Professor Doom1 was one of the lead investigators looking into the events that took place at the Sandy Hook Elementary School in 2012. YouTubers far and wide praised Doom's work, because our nutty Professor is one of the few Hoaxers online who claims to have "poured over" each and every document, scanned every pixel of every photo and grilled those involved in what he firmly believes is a false flag, hoax, psyop, 2nd Amendment Right gun grab… perpetrated on the citizens of the world to usher in the New World Order – not joking! This has been ongoing for years, since the 2012 tragedy. And he continues to get praised. And it just comes out in 2016: Professor Doom1 talked to Lenny Pozner five times?
Oh, dear.
Pozner is available most days (actually, he's available for almost three hundred days in one calendar year!) to put this whole Sandy Hook Hoax madness to rest, especially with one of the "top dogs" on YouTube. That is well over a thousand days Professor Doom1 had the opportunity to speak to Pozner, and Doom managed to get squeezed in for a whopping five times. At this rate, Professor Doom1 will have conducted double-digit phone interviews by 2020.
TALK ABOUT "WHAT," EXACTLY?
Professor Doom1 seems to be White Knighting for Wolfgang Halbig and does not like what he is seeing from HONR. Doom would rather support a man like Wolfgang Halbig, Leader of the Hoaxers, a man who wants to exhume the bodies of buried children, grade school kids who passed away in a mass shooting. Professor Doom1 claims Halbig is a "documents only" type of investigator. The truth is, NOBODY knows what Halbig is up to, as it has also just come out: WOLFGANG HALBIG HAS HAD CREDENTIALS AS A GERMAN REPORTER ALL ALONG! Wolf dropped that bombshell just the other day on this video at the 15minute/40second  mark.
PROFESSOR DOOM1 SHARES DANGEROUS LINKS!
We have been able to intercept THREE screenshots where Professor Doom1 shares bogus links as Danny Sass, another alias for Philip Daniel Craigie.