Sandy Hook conspiracy theorist threatens a lawsuit after Police call him out.
Wolfgang Halbig of Florida thinks he is sane when everyone around him knows different.
Will shill and con-artist Wolfgang Halbig take on the Florida Detective who thinks he is mentally unfit?
Most people in Sorrento Florida and the surrounding Lake County consider Wolfgang Halbig to be mentally unstable.  Why doesn't his family get him the proper treatment that he requires?  Wolfgang Halbig harasses Lake County Sheriff's Office after being labeled "mentally unstable" by a Detective in Florida who has most likely seen it all. So now what?
What will it take for his family and the State of Florida to begin the process of civil commitment or Involuntary commitment.  This may be a good way for his family to get out from all of the liability and debt that Halbig has created for them.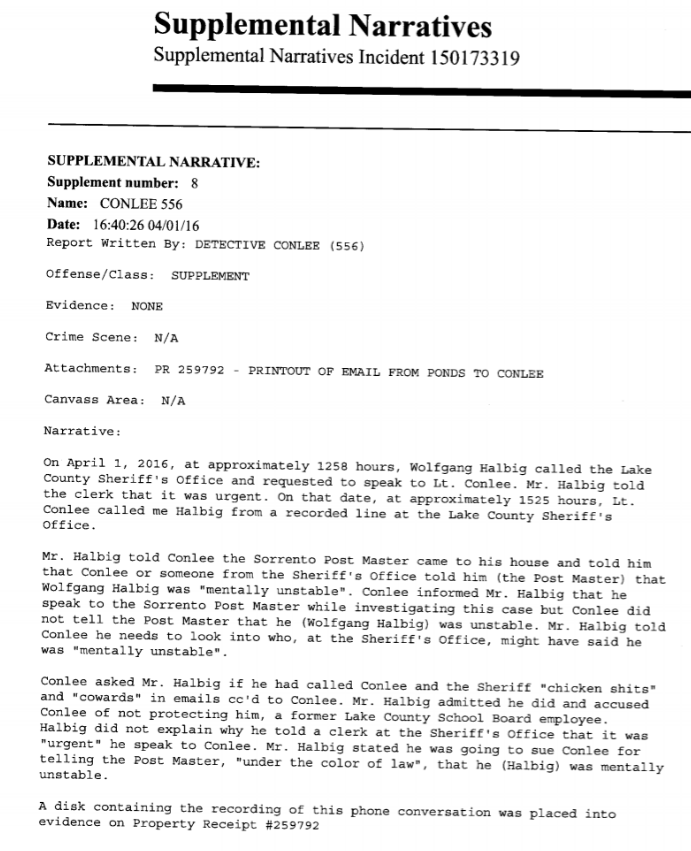 The Florida Mental Health Act of 1971 (Florida Statute 394.451-394.47891 [2009 rev.]), commonly known as the "Baker Act," allows the involuntary institutionalization and examination of an individual.
The Baker Act allows for involuntary examination (what some call emergency or involuntary commitment), which can be initiated by judges, law enforcement officials, physicians, or mental health professionals. There must be evidence that the person:
possibly has a mental illness.
is in danger of becoming a harm to self, harm to others, or is self neglectful.
Both of these are defined in the Baker Act.
COMMENTS——– COMPL ADV'D HE CALLED IN EARLIER AROUND 11AM, REQ LEO RESOPNSE, ADV'D HE GOT APHONE CALL AND THE UNIT SAID HE WOULD BE 51 AS SOON AS HE CLEARED HIS CALL ..ADV'D THE UNIT NEVER CAME BY18:52:20 10/31/2015 – WILLIAMS 2355GOING TO BE REF OCA/ 150173070 .. REF SOMEONE THREATENING HIM AND POISONING HIM18:53:30 10/31/2015 – THOMAS 1851600 1026.. JUST ADVISED SUBJS OF DELAY PLS19:33:52 10/31/2015 – THOMAS 185 – From: HAUSS 16009719:56:29 10/31/2015 – THOMAS 185 – From: HAUSS 16001098 REPORT, RECLASSIFY AS S41 FROM S83
COMMENTS——–****** PER CALL HISTORY COMPL IS S20 *******COMPL WANTS TO MAKE A REPORT ON PEOPLE THREATENING HIM AND POISONING HIM.11:17:11 10/31/2015 – FELICIANO 2348 – From: TRIPLETT 2126RECLASSIFY FROM S41A TO 1068 .. 98 1068