Roy Warren Marshall, the biggest bully on YouTube, has his telephone number splashed all over the internet!
302 S Balsam St, Lakewood, CO 80226
Montagraph… AKA i11uminati, ImYourGhost, The Umbrella Man, October Reigns, Elite Rule and Speck Mallhide… gets COOKED!
Steve Quest: (720) 319-1007
It looks like the walls are closing in tighter on Montagraph aka Steve Quest, ImYourGhost, i11uminati, The Umbrella Man, Elite Rule, October Reigns, Speck Mallhide, New World Order Soldier… aka the internet's biggest rage flagger. Good ole Monty had his cellphone number broadcasted out by means of a YouTube video the other day 720.319.1007 – and those digits have been confirmed, this is not a joke. Montagraph's cellphone has been dropped.
And not only has Montagraph's cellphone number been published, there are people trolling the self-proclaimed King of the Interwebs with some addresses, P.O. Box numbers, a date of birth, alternate phone numbers…
Amazing.
Montagraph gets LIT UP!
The cellphone number for Montagraph is (720) 319-1007 and a simple Google search brings up some phone records and reports already. On Page 1, Montagraph's cell has been listed on findwhocallsyou.com – 2 reports were made so far. How many more people will talk about their "story time" stories here? How many will post anonymously on the Montagraph cellphone number thread? Steve Quest's rage and terror has found its way to hundreds of people online.

A user by the name of Rerun posted this:
Steve Quest DOB Sept10th 1957 Montagraph OctoberReinz his POBOX Pak Mail 98 Wadsworth Blvd #127, Lakewood CO 80226 (303) 237-9240
Steve Quest is having a rough time… again. First his birth name, then some failed court cases now a phone number? After playing hide and seek online for all these years… 2019 has been an eye-opening one, most would say.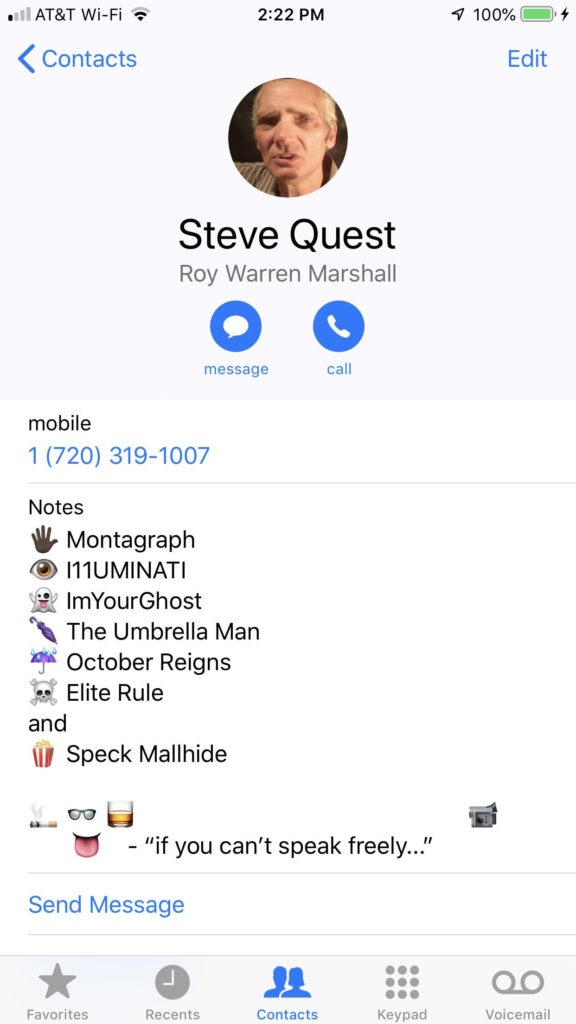 It's good to see Montagraph scrambling around like a sloppy drunken fool in his tender years.
>>> Montagraph links to more blogs and articles… all in one place <<<