QUEENS, New York Man Facing 10 Years in FEDERAL PRISON…
Brendan Hunt of Ridgewood, NY – RAIDED by FBI after THREATS of VIOLENCE made to Police/Officials in Washington.
X-Ray Ultra a/k/a Brendan Hunt gets "ULTRA" violent!
Brendan Hunt, the son of retired New York Family Court Judge John Hunt, was charged Tuesday with making death threats against elected officials over what he falsely claims was a stolen presidential election. Hunt was taken into custody after FBI agents raided his home on Gates Ave. in Ridgewood, New York early Tuesday. Prosecutors allege, Hunt called on Trump supporters to return to Washington and "show up with our guns."
"We need to go back to the U.S. Capitol when all of the senators and a lot of the representatives are back there, and this time we have to show up with our guns. And we need to slaughter these motherfuckers!" – Brendan Hunt (Queens, New York)
Brendan Hunt works for the Courts in New York
Come to find out, Brendan Hunt is an assistant Court analyst for the Office of Court Administration, according to public records. An Office of Court Administration spokesman says Hunt was suspended without pay after his arrest Tuesday. His father, John Hunt, is a retired Queens Family Court Judge. John Hunt was in the courtroom on Tuesday and offered to sign a bond on his son's behalf.
Assistant U.S. Attorney David Kessler calls Hunt's threats a "chilling and escalating series of calls for direct violence against Congress over a month." Kessler went on to say, "These threats would be grave under any circumstances, but they're even more so in the volatile circumstances we find ourselves in today."
The Making of an Extremist
BitChute and other social media platforms
While the entire planet learned the dangers of Covid-19, Brendan Hunt taught himself BitChute and began to upload older content in May of 2020. Many of the first videos are demo reels, his drum circle beatings during Occupy Wall Street and musical theatre-type material. As video uploads continue later on into the month of May, things get more and more conspiracy-ish…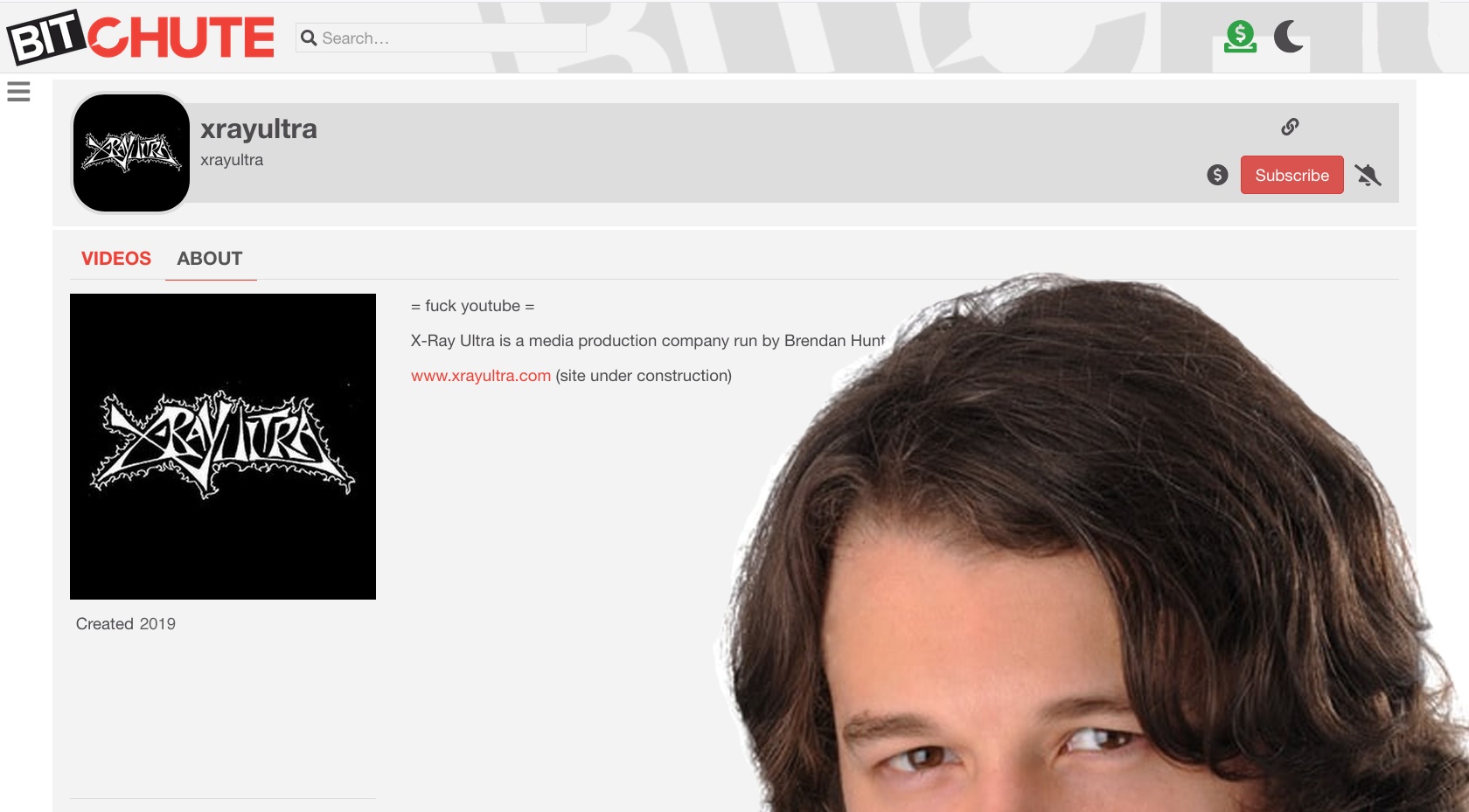 …Brendan Hunt visits Sandy Hook, Brendan Hunt on the Boston Bombing, Brendan Hunt presents The Tsarnaev Bros. circa 2013 – over 50 classic videos from Brendan Hunt's collection – mostly his videos flagged off YouTube, now re-uploaded to BitChute. Hunt's "About" section simply states, "- fuck youtube -" and there is a link to an X-Ray Ultra website, a site that is under construction. In November, there are two Sandy Hook videos about trolls and one cover photo image featuring Wolfgang Halbig as the Kool-Aid Man.
On gab, we find only three posts and more frustration with the social networking platform Facebook. Back in 2019, Hunt writes "#FirstPost fuck facebook" and about 1 year later, he writes about how his bitchute Channel is coming along.
Hi. I've been uploading my work to #BitChute due to extreme #censorship. You can view my channel xrayultra here…
A few months go by and it's "STOP THE STEAL" in November.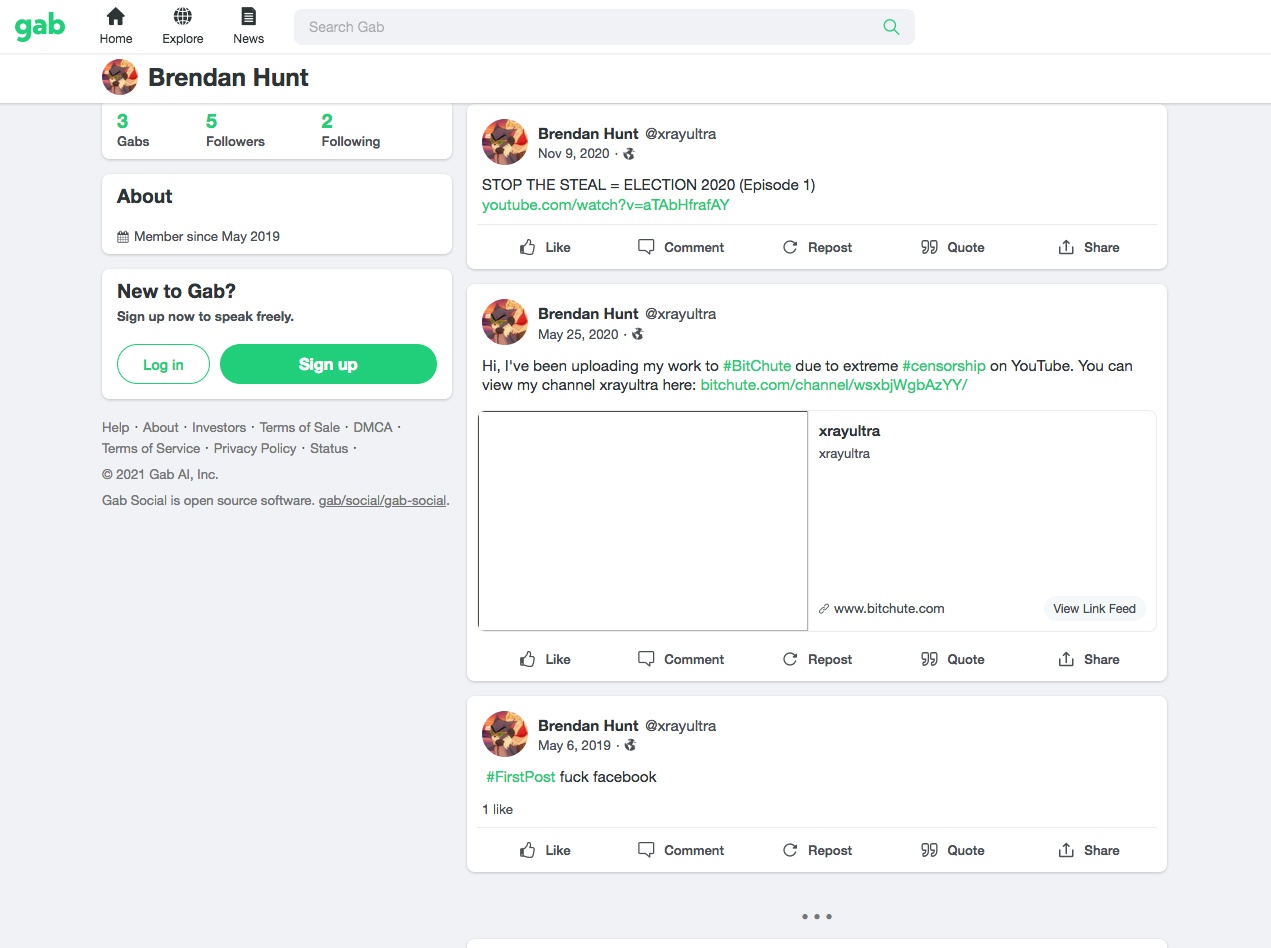 January 2021
A mob of people storm the Capitol Building in Washington, D.C. and Brendan Hunt is ready to go from his home base in Queens, New York. Hunt titles his first video as "HORRIFIC: DC Cops Shoot Unarmed Patriot Girl Thru Neck in Capitol Building!!" From there, Hunt seems to spin out of control. He is not in Washington, but Hunt calls for the execution of prominent political figures in many of his vidoes. Two days after the Washington riot, Hunt posts an 88-second video titled "KILL YOUR SENATORS" on BitChute.
"We need to go back to the U.S. Capitol when all of the Senators and a lot of the Representatives are back there," he said. "And this time we have to show up with our guns. And we need to slaughter these motherfuckers." Finally, Hunt writes: "If anybody has a gun, give me it, I'll go there myself and shoot them and kill them."
Judge Ramon Reyes orders Hunt remain in custody until his trial, where he faces 10 years behind bars if convicted.