Jamison Gets New Mugshots for the New Year
FCJ OF IOWA IS BACK IN CUSTODY, BIG TROUBLE AGAIN FOR CYBER CRIMES: BULLYING, STALKING AND REVENGE PORN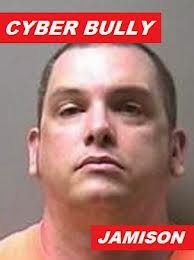 Everyone knew it was coming. Everyone knew he would be going back to jail.
Everyone knew this day would be soon… everyone except Forrest Courtney Jamison.
Can you believe that? It's very hard to believe, yes, but Jamison is unable to actually see what is taking place before his very eyes. Jamison is now averaging a new mugshot per year since entering into his late 30s. And with zero friends around to keep him in check (both on and offline!), Jamison proves once again he needs constant, SERIOUS supervision… immediately and quite possibly throughout his 40s. It's also hard to believe how one man living inside a tiny apartment in the State of Iowa can harm so many people around the world. Jamison has a knack for finding the weakest people online and knowing exactly which buttons he needs to press to get his victims to dance. Has or had? So many people online know to steer clear.
And it's a very good thing we know all about Forrest Courtney Jamison. People in the various communities have always kept tabs on him. Unfortunately, Jamison does get around and has ALWAYS used multiple fake accounts to hide who he is and what he is up to. Here's what we do know:
419 W 4th St
Ottumwa, IA 52501-2316
641-814-4043
Born 04/27/1973

LINKS:
Other Stories: