Is John Michael Del Palazzo online as Johnny Cirucci?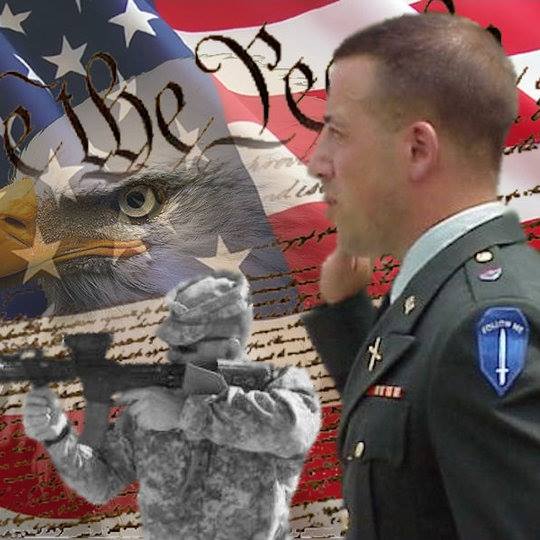 It's confusing as to why a man who did a tour in Iraq is trolling the internet like some kind of secret agent. Is it John Michael Del Palazzo or is it Johnny Cirucci?
Yes, another online tough guy refuses to use his "Christian" name. John Michael Del Palazzo is Johnny Cirucci, an out-spoken hoaxer (with blogs, a small Twitter account & the usual Facebook profile), who is apparently back on a mission to harass innocent people. The Johnny Cirucci persona has a bad habit of targeting the victims of high-profile tragedies we all see and read about in major news stories. Why this is occurring in the young man's life is anyone's guess. Del Palazzo currently lists himself as a married man from Lebanon, Pennsylvania, and has labeled himself as an ass-kicker for the Lord Jesus Christ. That's great, except for the fact that everything Del Palazzo does contradicts himself as the "righteous Christian soldier" he sees himself as. After John Palazzo returned from his tour in Iraq he turned into a full Hoaxer. We aren't sure how this happened, but we do know that he used to love cats and his wife plays the flute. Now he spends his days publishing harassing content about murdered children and their families and other crazy conspiracy ideas.
Is Johnny Cirucci AKA John Michael Del Palazzo pushing HOAX stories of animals in Iraq?
Here is a snippet taken from an article where John Michael Del Palazzo rescued a cat in the war-torn country he was deployed to. The story seems fake, or as Del Palazzo would say — a HOAX. You be the judge: Is this a publicity stunt?
John Del Palazzo Corning Soldier Rescues Cat From War Zone
While stationed in Liberty, he encountered a bedraggled stray cat. The animal was not a candidate for the cover of Cat Fancy magazine. Part of her mouth was torn away — possibly in a fight with another animal — leaving her with a perpetual toothy sneer. Her left eye was discolored and only partly functional.
But Del Palazzo was mysteriously and irresistibly drawn to the disfigured creature.
"Most of the animals there were standoffish, but she was an absolute sweetheart," Del Palazzo said. "I noticed she had a scarred-up face. I became attached to her. I didn't mean to. I brought her back to my room. She ended up curling up with me. I knew it was not a good idea to get attached," Del Palazzo said. "It's impossible to get animals out of there. The military has a no-pet, no-mascot policy, which is really pretty dumb. Those poor animals are all over Iraq. The best thing that can happen to one of these animals is to hook up with a soldier."
Despite the misgivings, Del Palazzo made up his mind he wanted to adopt the cat, which he named Liberty, and to somehow find a way to get her back to the states. Del Palazzo made contact with an organization known as Operation Baghdad Pups, a program of SPCA International, which works to help servicemen and women get adopted pets out of Iraq and back home.
Before he could make any arrangements, Del Palazzo was reassigned to Taji in the north. He left Liberty in the care of a female sergeant who was willing to bend the rules to help him out. Just when it appeared that Operation Baghdad Pups would be able to help ship Liberty out of Iraq, the sergeant's roommate accidentally let her out, and the cat vanished into the streets. Del Palazzo was devastated but didn't give up hope. When the narrow window of opportunity to get Liberty out of Iraq was about to close, a miracle happened.
"I think it was the hand of God," Del Palazzo said. "We prayed a lot on it. Two days before the plane leaves, the sergeant finds the cat again. The chaplain also helped us. They made the connection for us. Baghdad Pups made it happen. Alexis had to drive to Washington, D.C., to meet her there."
He seems like a happy guy at one point when he was in Iraq rescuing pussycats.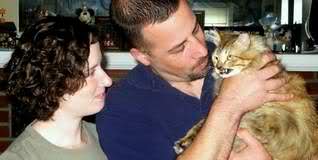 Alexis & John Michael Del Palazzo
Not only are Alexis and John Michael Del Palazzo's radical views expressed all over the web as Johnny Cirucci, the couple happily accept donations from articles created about tragedies in the news. Del Palazzo has written books about the Illuminati as well as scaring the usual crowds with the new world order garbage — he has an Amazon.com profile page as an author. Self-published books are being sold on Amazon to puff himself up as some kind of authority figure on the subject. Once puffed up enough, Jonathan Michael Del Palazzo uses his internet presence to sell more lies, and worst of all…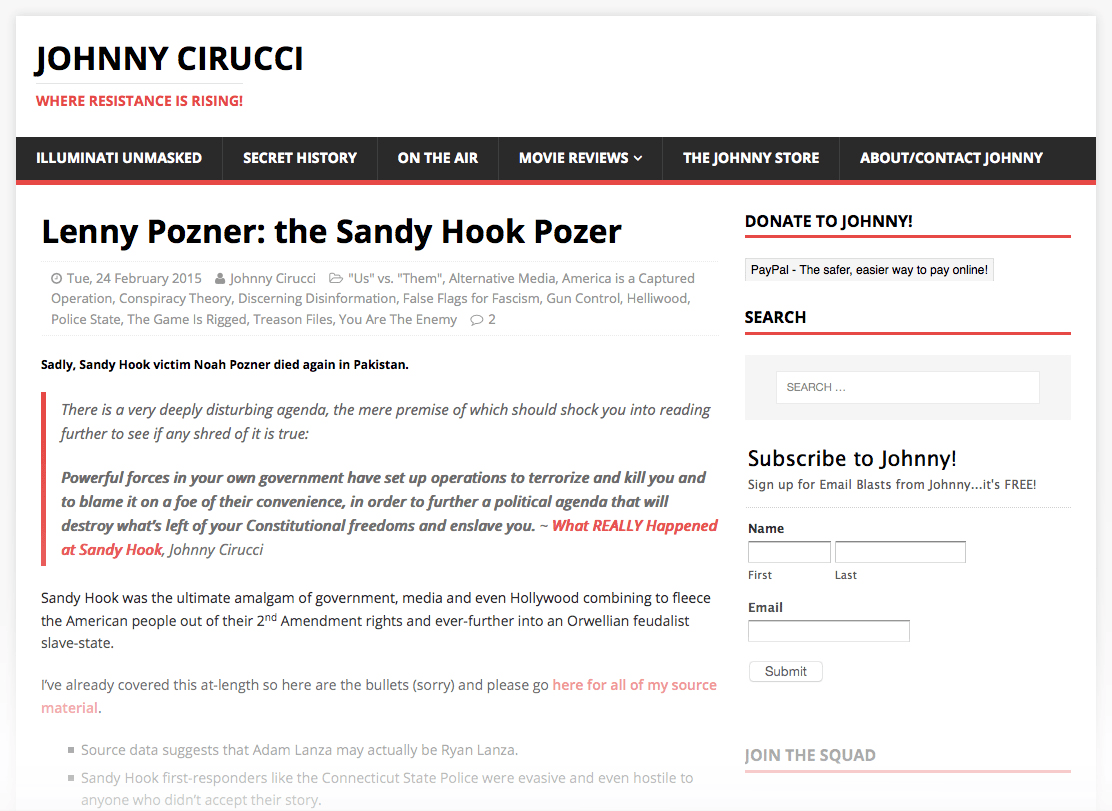 Lenny Pozner: the Sandy Hook Pozer
A sample of his work can be found here:
https://web.archive.org/web/20170311010633/http://johnnycirucci.com/lenny-pozner-the-sandy-hook-pozer/
Timeline of References to Alex Jones/Infowars
Was he influenced by Alex Jones?
From archived "about" page from 2013, not online anymore, attributes Jones with first getting him to "ask questions":
http://web.archive.org/web/20130131172259/http://johnnycirucci.com/_mgxroot/page_about_johnny.html
Links to Infowars store Feb 2012, as well as prisonplanet
https://johnnycirucci.com/democracy-in-america-the-big-lie-part-i/
Links to Infowars in March 2012:
https://johnnycirucci.com/freedom-news-for-sunday-18-march-2012/
Again in March 2012:
https://johnnycirucci.com/the-death-of-whitney-houston/
Again in March 2012:
https://johnnycirucci.com/freedom-news-for-tuesday-27-march-2012/
In April 2012:
https://johnnycirucci.com/freedom-news-for-sunday-01-april-2012/
Links to Infowars in May 2012:
https://johnnycirucci.com/freedom-news-for-wednesday-30-may-2012/
Prisonplanet link May 2012, praises Alex's interview with Joel Skousen:
https://johnnycirucci.com/freedom-news-for-friday-04-may-2012/
Praising Alex Jones and Infowars in June 2012:
https://johnnycirucci.com/freedom-news-for-wednesday-06-june-2012/
Again in June 2012:
https://johnnycirucci.com/freedom-news-for-saturday-16-june-2012/
July 5, 2012:
https://johnnycirucci.com/freedom-news-for-thursday-05-july-2012/
Jul 14 2012:
https://johnnycirucci.com/crichtons-revenge/
Jul 15 2012:
https://johnnycirucci.com/freedom-news-for-sunday-15-july-2012/
Cites Alex and Infowars, links to them re: Aurora July 2012:
https://johnnycirucci.com/the-aurora-colorado-theater-shooting/
More the following week:
https://johnnycirucci.com/freedom-news-for-wednesday-25-july-2012/
Links to Infowars re: Aurora in 2012, uncritically:
https://johnnycirucci.com/down-the-rabbit-hole-jared-loughner-black-holes-nasa-and-hollywood/ 
September 2013 – Describes moving from Rush Limbaugh to Alex Jones, "waking up" etc
https://johnnycirucci.com/conservatives-are-poised-to-either-save-or-destroy-the-free-world/
January 2014
https://johnnycirucci.com/special-occupations/
April 2014 – Links to Infowars and talks about watching Alex's coverage of the Land Management standoff
https://johnnycirucci.com/showdown-in-nevada/
Feb 2015 – talks about "disappointment" in Alex for not calling some shootings false flags, seems to be losing the faith in him:
https://johnnycirucci.com/the-charlie-hebdo-mass-shooting/
October 2015 – slams Webster Tarpley, AJ's "good friend"
https://johnnycirucci.com/resistance-rising-045/
Feb 2016 – talks about Alex 12min, negatively
https://johnnycirucci.com/resistance-rising-068/
May 2016, negative framing of Jones
https://johnnycirucci.com/fritz-springmeier-profile-in-a-government-trained-vatican-terrorist/
Sep 2016 – now Jones is a "Roman operative"
https://johnnycirucci.com/drudging-up-jesuits/
Links to Infowars in 2016 blog post:
https://johnnycirucci.com/resistance-rising-120/
Still into Steve P in 2017, when he talks about Alex; Cirucci has turned on Alex by this point and argues he is a CIA shill/secretly Bill Hicks/whatever
https://johnnycirucci.com/wp-content/cache/all/resistance-rising-146/index.html 
2018 interview on public access TV, he says it was the assassination of Osama Bin Laden that got him to give up on right-wing radio and go with alternative media:
https://odysee.com/@Johnny_Cirucci:4/Johnny-on-Canadian-TV,-ThatChannel–22-Jan-2018:3